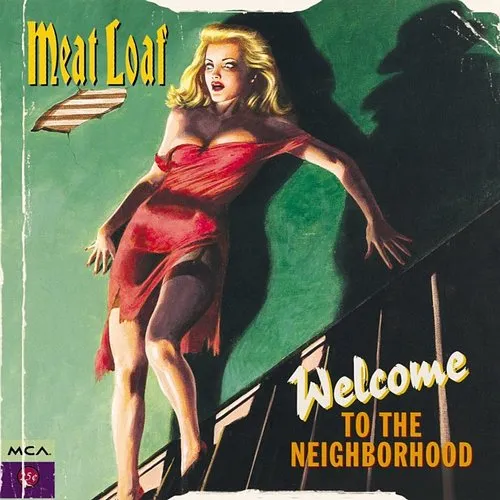 Details

Format: CD
Label: MCA (USA)
Catalog: 11341
Rel. Date: 11/14/1995
UPC:

008811134129
Welcome to the Neighborhood
Artist:
Meat Loaf
Format:
CD
New:
In Stock and available for pick up
Used:
In Stock and available for pick up
Wish
Formats and Editions
Reviews:
''Welcome to the Neighbourhood'' is Meat Loaf's seventh studio album, released in 1995 as follow-up to the popular album ''Bat out of Hell II: Back Into Hell''. The album went platinum in the United States and the UK.
Three singles were released from the album: "I'd Lie for You (And That's the Truth)" (a duet with Patti Russo), "Not a Dry Eye in the House" and "Runnin' for the Red Light (I Gotta Life)." The first two reached #2 and #7 in the UK charts, while the latter reached #21. In some markets, radio stations were also playing "Amnesty Is Granted", even though it was not released as an official single. Despite the chart success of the album and its singles, only "Amnesty is Granted" has appeared on an official live album, ''Casa De Carne (Live 2008)'' as a bonus CD with ''Hang Cool Teddy Bear''. "I'd Lie for You (And That's the Truth)" was recorded as a sound check with the Melbourne Symphony Orchestra, but only included as a bonus download track.
This album was produced by Ron Nevison, with additional production by Sammy Hagar, Steven Van Zandt and Meat Loaf himself. Of the twelve songs on the album, two are written by Jim Steinman. Both are covers, the "Original Sin" from Pandora's Box's ''Original Sin'' album (it was also heard in the movie ''The Shadow'', where it was performed by Taylor Dayne) and "Left in the Dark" first appeared on Steinman's own ''Bad for Good'' album.
The first two singles are written by Diane Warren, who later also wrote songs for Meat Loaf's ''Couldn't Have Said It Better'' and ''Bat Out of Hell III: The Monster Is Loose'' albums. - Wikipedia
back to top